Elma Panagaki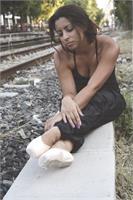 Elma is a 500 hr Yoga, Pilates & Barre Certified Instructor from Athens, Greece. She was a ballet dancer for 15 years. When she moved to LA she continued her Ashtanga yoga training with Tim Miller. The foundation of her practice combines the physical with an inner emotional and spiritual journey. She is very passionate about teaching and her goal is to help others reach their maximum potential and exceed their limits. She believes it is vital to have a strong connection to the body and love who we are.
Elma Panagaki instructs the following:
An athletic yoga class based in the Vinyasa style of movement synchronized with breath to build strength and focus.




Adrenaline Barre blends dance and fitness to maximize the burn. This class focuses on toning the target areas with flowing dance movements that will increase your heart rate and burn off those naughty calories. With the barre, light weights and dance movements, this class will leave you with an adrenaline high!