Ryan Stulgin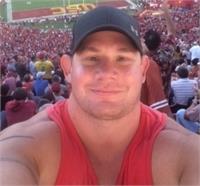 Originally from the midwest, Ryan has over 15 years of power-lifting experience starting as a football player in high school as well as at the collegiate level. He recently discovered CrossFit and was immediately drawn to the motivation and camaraderie found in the CrossFit community. Ryan is a fitness hat trick as a CF-L1 certified coach, a certified personal trainer and is also pursuing his cycling certification. Ryan seeks to educate his clients about fitness and inspire them to achieve their goals.
Ryan Stulgin instructs the following:



45 minutes to compete. 45 minutes to win. Otherwise you're just pedaling to nowhere.




All of the variety and intensity of a Crossfit class with a fun filled focus on team competition. These classes include individual strength training as well as team workouts, all designed to build camaraderie, be insanely fun and highly addictive!




High octane workouts designed to simultaneously burn fat and shape your body. These classes consist of both aerobic and anaerobic exercises without the Olympic weight training of a normal Crossfit class. Great to increase endurance and energy.