Leticia Barahona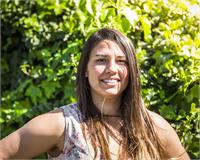 Leticia Barahona is a CrossFit Level 1 and 2 as well as CrossFit Kids certified coach. Not to mention she has National USA Weightlifting Coaching experience. Her primary goal in her approach is to help Athletes set goals and make fitness and nutrition an essential part of life.
Growing up she played just about every sport in the book, but stuck with softball and now also coaches it. When she discovered CrossFit after college, she was hooked and now focuses her own training on Olympic Lifting.
Leticia Barahona instructs the following:
All of the variety and intensity of a Crossfit class with a fun filled focus on team competition. These classes include individual strength training as well as team workouts, all designed to build camaraderie, be insanely fun and highly addictive!