Renee Sanford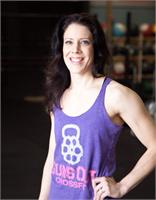 Renee's passion for health and fitness was the driving force behind her decision to pursue and earn her Bachelors of Exercise Science at Kent State University, Ohio. She also found a new personal pursuit in the gym - weight lifting! It eventually lead her to CrossFit in 2013 and she has never looked back. In order to become better at the sport she took as many classes as possible and sought out everything she could learn from more veteran athletes. She earned her Crossfit level 1 to share her enthusiasm and knowledge of the sport with others. Renee is very passionate about helping athletes develop and hone their skill set and teaching them the importance of proper technique. Renee truly believes that fitness can impact many aspects of a person's life and ultimately helping them to become a better individual physically and mentally.
Renee Sanford instructs the following:
All of the variety and intensity of a Crossfit class with a fun filled focus on team competition. These classes include individual strength training as well as team workouts, all designed to build camaraderie, be insanely fun and highly addictive!




High octane workouts designed to simultaneously burn fat and shape your body. These classes consist of both aerobic and anaerobic exercises without the Olympic weight training of a normal Crossfit class. Great to increase endurance and energy.