Derek Rubiano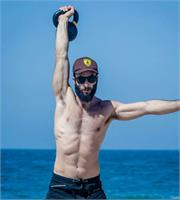 Derek began his fitness journey as a kid with team and board sports. He found Crossfit in 2009 as a supplemental conditioning tool to his powerlifting, but soon realized that Crossfit pushed him further, faster and stronger than other forms of training, A perfectionist when it comes to form and technique, Derek teaches people to become athletes and give them the tools to create and understand their own fitness journey. He believes fitness should be something that you enjoy and cultivate a passion for and that is reflected in his classes. Derek also has completed his 200 hour yoga training with Yogaworks and trains and hand balancing and gymnastic strength elements.
Derek Rubiano instructs the following:
All of the variety and intensity of a Crossfit class with a fun filled focus on team competition. These classes include individual strength training as well as team workouts, all designed to build camaraderie, be insanely fun and highly addictive!




High octane workouts designed to simultaneously burn fat and shape your body. These classes consist of both aerobic and anaerobic exercises without the Olympic weight training of a normal Crossfit class. Great to increase endurance and energy.