Amanda Eichner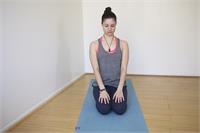 Originally from the East Coast, Amanda studied Graphic Design and Photography in college with 9 years of portrait photography experience under her belt. She came out to Los Angeles to pursue her creative career and serendipitously found herself working at Thrill. She has been practicing vinyasa style yoga for 5 years now and received her 200 Hour Certification at CorePower. Yoga has been a mental and physical release for Amanda and now she loves sharing that experience with other people.
Amanda Eichner instructs the following:
We invest more time on specific poses from our Power Flow to advance your practice and help you increase your focus. You'll explore many more of the strength/balancing postures and some advanced variations of those postures that you have learned before.