Lisa Austin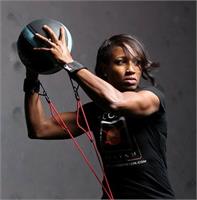 Lisa is Schwinn, CrossFit level 1 and Watt Bike certified, just to name a few. She's a former track and field All American with over 22 years of helping people get fit. She's trained numerous NBA, NFL and WTA professional athletes and harnesses her incredible body of knowledge every time she coaches. She's all about proper mechanics before increasing intensity. She'll help you focus on body, mind and spirit to achieve your goals!
Lisa Austin instructs the following:
45 minutes to compete. 45 minutes to win. Otherwise you're just pedaling to nowhere.




High octane workouts designed to simultaneously burn fat and shape your body. These classes consist of both aerobic and anaerobic exercises without the Olympic weight training of a normal Crossfit class. Great to increase endurance and energy.