Ayal Lebow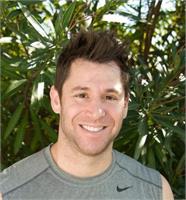 Ayal has been passionately involved in martial arts for most of his life, competing in and winning multiple tournaments in Florida. But some of the best times in his life were spent playing playing team sports, from football to more football, and also football. As an adult, he missed the camaraderie and competition working out by himself. So when he discovered CrossFit he immediately fell in love. He enjoys the variety and intensity of the exercise, but most of all the sense of community. When it comes to teaching CrossFit himself, he simply wants to inspire people to feel better about themselves.
Ayal Lebow instructs the following:
All of the variety and intensity of a Crossfit class with a fun filled focus on team competition. These classes include individual strength training as well as team workouts, all designed to build camaraderie, be insanely fun and highly addictive!




High octane workouts designed to simultaneously burn fat and shape your body. These classes consist of both aerobic and anaerobic exercises without the Olympic weight training of a normal Crossfit class. Great to increase endurance and energy.