Elevation Barre
This class is taught by: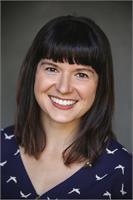 Chelsea Johnson is a proud native of St. Louis, MO. She fell in love with dance at the wee age of 5 and went on to graduate with honors from Columbia College Chicago with a B.A. in dance. Being healthy and active became a passion in high school and her career has become a healthy marriage between dance and fitness She has multiple certifications and an eye for form and placement. This Midwestern girl loves all forms of exercise from barre to circuit training to cycling. "Fitness doesn't have to be awful. Find something you enjoy and gets you excited to move and go for it!"
Elevation Barre is a unique blend of dance and fitness with a booty blasting focus. We use isolated movements to work the target areas we all want to shape and tone; the booty (glutes), core, arms and legs. Using the barre, resistance bands and lights weights, this high energy and low impact class will make you work muscles you didn't know you had.
Upcoming classes:
Fri

Jan 18 11:30 am - 12:15 pm

with

Chelsea

Johnson




Sign Up

Fri

Jan 25 11:30 am - 12:15 pm

with

Chelsea

Johnson




Fri

Feb 01 11:30 am - 12:15 pm

with

Chelsea

Johnson




Fri

Feb 08 11:30 am - 12:15 pm

with

Chelsea

Johnson




Fri

Feb 15 11:30 am - 12:15 pm

with

Chelsea

Johnson




Fri

Feb 22 11:30 am - 12:15 pm

with

Chelsea

Johnson




Fri

Mar 01 11:30 am - 12:15 pm

with

Chelsea

Johnson